Soft Play Area
We are delighted to officially open The Avenue Soft Play Area – the perfect safe space for kids to develop, let off steam, and have fun!
Please take note of our soft play rules.
Suitable for babies and toddlers ONLY (0-3 years)
Parental/Guardian Supervision required at ALL times
Maximum of 5 children at any one time
No standing/sitting on the ledge of the play area
No food/drink allowed within the soft play area
Footwear must be removed, socks must be worn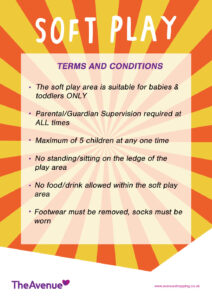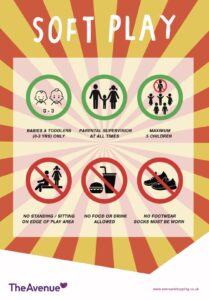 ---
Accessibility
Use of manual wheelchair subject to availability and can be arranged via customer services. Please call 0141639 5926.
---
Lost Property
Lost something in our centre? Please call 0141 639 5926.
---
Taxis
A taxi freephone is available on the North and West entrances.
---
Electric Vehicle Charging
Free of charge electric car charging units located in the M&S car park. For use between the hours of 08.00 – 22.00. Click here for full details. Please note this is a 4 hour maximum parking facility. You will need to be registered with Charge Place Scotland to be able to use this facility.